About The Wonder bio
Hello! My name is Amandine, I am the resident marine biologist at Raffles Maldives Meradhoo.
If you have a question, fill the contact form here
If you want to know how I landed my dream job in one of the most amazing destination in the world: Keep reading…
It all started when I was 7 years old and watched a beautiful film, 'Free Willy', which features a female marine biologist educating the hero about the orca 'Willy'. She spoke about its behavior, it's fav food and looked so cool, that I became an ardent fan of that marine biologist and the profession. And she became my first role model.
This feeling tagged along as I grew up and it was only natural for me to join the diving community when I was old enough to dive.
As I gained experience underwater and was blessed with more amazing encounters, I found that observing was just not enough. Keeping in mind the marine biologist from the movie and thanks to my supportive Dad I went on the Science path at school. Eventually another movie caught my attention and this was a complete revelation, I watched "Shark Water" and this film was a turning point in my life.
I changed my original plan and decided to study sharks. I completed my master degree through an exchange program in Sweden, graduating with a major on shark behavior and ecotoxicology. All the courses and laboratory research broadened my understanding and opened my eyes to multiple cool fields of marine sciences. Eventually, I became a dive master and through this training I had the chance to work mixing marine sciences and tourism – I reckon that this was another turning point in my life!
Stay connected with divers and guests made me realize that my quest to know more had only increased and I truly wanted to make a difference to the planet we call our home. My craving towards the deep blue waters had no limits and I wanted to do everything to make our ways on this planet more sustainable.
A Breath of Relief, the Great Barrier Reef!
There are not many better places to start than the Great Barrier Reef for a marine enthusiast. I volunteered on a diving live-aboard vessel operating from Cairns, Australia. Then I landed a job in the same marina as an onboard marine biologist. I was fortunate to be working within a team of biologists, educating tourists and children about wonders of the sea. I also learnt about the local culture and was allowed to share aboriginal stories passed on from the different aboriginal families of the area.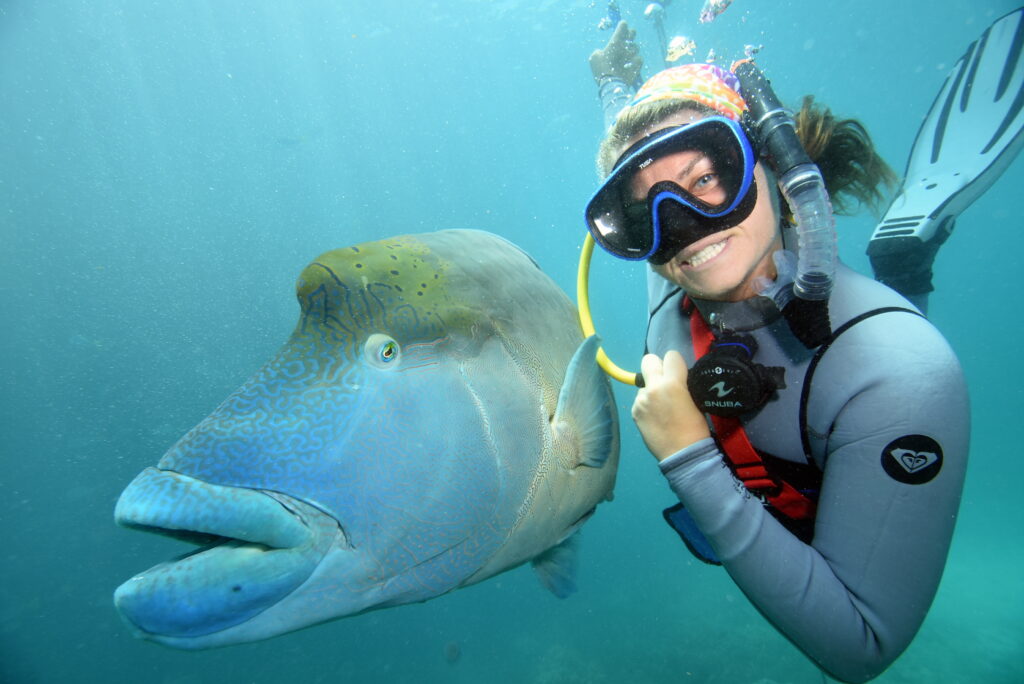 This fantastic experience ended as did my Australian visa. But not my will to pursue such a career! Strong for those encounters and experiences, I looked for similar job worldwide. I knew what I wanted to do.
With the never-ending appetite for learning more and my will to make a difference, I looked out for opportunities that would help me not only educate people but also implement everything I have learnt. After a couples of interviews a successful one led me to the beautiful island nation: The Republic Maldives. Everything seemed to be great and yet challenging, I had the immediate inclination towards the job.
The minute I set my foot in that paradise island, it got me! It was nothing but wild and marvellous. The colors spoke for themselves , jungle and reef are pristine.
I spent the next few months studying the island, its plants, animals and different habitats… With everything that I learnt in the past and the knowledge I gained after a lot of research I now not only educate guests leaving them with a smile but I also go that extra mile to conserve and safeguard the reef surrounding the island and the inland flora and fauna. Along my stay on Maamutaa I have made unusual friends like some bat fist, a booby bird which was rescued, amongst others.
Sustainability is a lifestyle …
With guests I can talk about nearly anything living in the reef, or inside the island, narrating facts and stories about the marine life, plants or corals that would go unnoticed otherwise. I was also craving for more, after three years and strong of that Maldivian experience I decided to push my journey deeper into conservation. To peruse my career within an institution deeply involved with sustainability and reef care. There are a few famous names of barefoot luxury in Maldives also when i saw that this secluded pristine island with its resilient reef was looking for a marine biologist to tag along with their crew of marine butlers: I applied, and guys believe me it is better than the job description!
I have just started getting my hand on things but fish diversity, turtle identification and baby shark adoptions are on the agenda! So I will keep you posted!